Benefits of Professional Lawn Care Services from NaturaLawn of America
Customized Lawn Care
We start with a soil test and then develop a lawn care plan tailored to your unique lawn care needs. Your lawn is a complex ecosystem of plants, animals, and microorganisms — a one-size-fits-all approach just won't do.
Environmentally Responsible Options
We believe in being good stewards of the environment. And that means providing our customers with natural alternatives to the harsh chemicals used in traditional lawn care methods.
Expertise from an EPA Partner
The Environmental Protection Agency asked NaturaLawn to write a chapter for a textbook the EPA published on pest management.
Two Unique
Nature's Lawn® Programs
The Natural Alternative®
Program A — Pesticide-free
 
The Alternative®
Program B — Organic-based
Natural, organic-based fertilization
✔
 
✔
Balanced nitrogen, phosphorous, potassium, sulfur
✔
✔
Controlled-release nutrients to promote deep root growth
✔
✔
100% natural soil conditioner with trace materials to stimulate growth of micro-flora and replenish depleted soils
✔
✔
Probiolizer, a proprietary blend of beneficial microbes to help energize and protect the root system
✔
✔
Selected weed controls
Organic Option Available In Select Areas
✔
Crabgrass reducer in the Spring
Organic Option Available In Select Areas
✔
Insect controls for surface-feeding insects
Organic Option Available In Select Areas
✔
Specially formulated treatments
✔
✔
Exclusive Ryzin-Kote™ soil amendment
✔
✔
It's All About the Soil
Providing the best professional lawn care services means starting from the ground up, literally. On our first visit, we will obtain a sample of your soil to analyze what essential nutrients are available as well as those that are lacking.
One of the most essential elements of this analysis is your soil's pH value. Soil that is too acidic or too alkaline can affect naturally occurring nutrients and make food from fertilizer applications unavailable to the turf.
The amount of organic matter your soil holds is also an important factor. Adequate levels will help hold moisture and nutrients during drought periods, insulate the lawn against extreme conditions and allow for the continual feeding of your lawn during periods between fertilizer applications.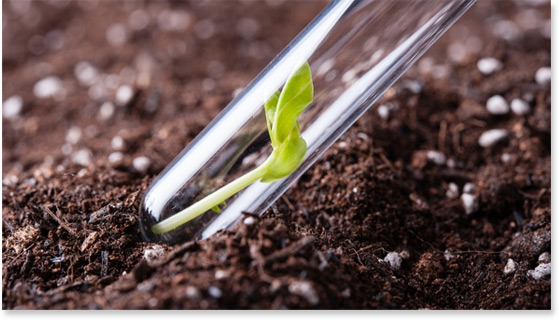 Providing Necessary Treatments
On our next visit, we will begin treating your soil and lawn based on the results of the soil test. As part of this treatment, we will work towards:
Supplying specific nutrients as needed.
Adjusting your soil's pH balance.
Increasing your soil's organic matter.
Your professional lawn care service treatment program will be one which improves the soil and enhances fertility — not an artificial stop-gap chemical measure that temporarily treats symptoms and causes deficiencies in the land.
Natural Fertilizer
Over the next several visits, we will begin feeding your soil with our natural fertilizer blends. Our proprietary organic-based fertilizers help to build a soil that:
Encourages dense root systems and vigorous turf.
Promotes active soil organisms.
When we apply fertilizer, we are indeed feeding the grass plants, but we are doing so by feeding the soil life. This makes our organic-based fertilizers important because while green plants don't know the difference between organic and synthetic fertilizers, the soil organisms do. Feeding soil life first builds a foundation on which your lawn will thrive.
Natural Controls
In striving to provide the very best professional lawn care services, NaturaLawn of America prefers natural controls over synthetic pesticides and we are always exploring new products. Natural controls generally:
Are more environmentally friendly by being pest specific.
Do not last long and break down readily into the ecosystem.
Require expertise to incorporate into a lawn care system due to specific application limitations.
While natural controls may be more expensive than synthetic pesticides, NaturaLawn believe their benefits are important and works to ensure a safer and better home lawn environment.
What to Expect from NaturaLawn's Professional Lawn Care Services
Neighborly Service
You're a neighbor, not a number. Your lawn care service will be carried out by the NaturaLawn franchise near you, by people within your community. We'll even knock on your door to say "Hi" when we arrive to treat your lawn.
Professionalism from Our Lawn Experts
After we've finished with your lawn care service, we will clean any debris off of your sidewalk, driveway, and porch. We'll also leave a note after each visit with lawn care tips to complement your lawn care treatment.
A Hearty Lawn
Our professional lawn care services will improve the health of your lawn by improving the quality of the soil and fighting pests. With our personalized professional lawn care services, organic-based fertilizers and safer weed and insect controls, you can have a thick, lush green lawn, naturally, with fewer weeds.
Environmentally Responsible Lawn Care Services
We literally wrote the book on it - well, part of it anyway. The Federal Environmental Protection Agency (EPA) coordinated efforts to put together a textbook entitled "Integrated Pest Management for Turfgrass and Ornamentals." NaturaLawn of America is proud and honored to have been asked to author the chapter entitled "Implementation of an IPM Program into a Lawn Care Operation."
Essentially, an Integrated Pest Management (IPM) is a lawn care system that provides for reduced, better and safer use of materials to control insects, weeds and diseases. Through proper prevention, monitoring and controlling, NaturaLawn pioneered IPM that challenged the old tradition of "see and spray" pest control.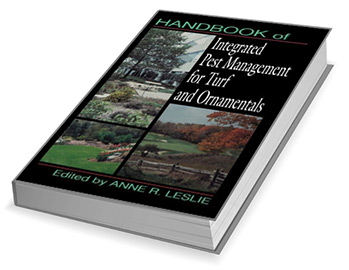 To help ensure proper environmental stewardship and practices, our proprietary products are formulated without phosphorus. Should soil tests indicate a need for phosphorus, we will make a special application to help correct the nutrient level or when seeding activity is being done, phosphorus may also be applied to help new seedlings develop strong root systems.